We are Manufacturer, Supplier and Exporter of CNC Turning Machines, CNC Turn Mill Center Machine Turn Mill CNC Machines. This product is also known as Turn Mill CNC Lathes, Turn Mill Centers, Turn Milling CNC Machines, Turn Milling CNC Lathes, Turn Milling Centers, Turning Milling CNC Machines, Turning Milling CNC Lathes, Turning Milling Centers, 4 Axis CNC Lathes, 4 Axis CNC Machines etc.
HYB-32 : CNC Turning Machines
• Compact Footprint
• Servo and Cam drive combination
• Overlapping Operations
• High Productivity
• Ergonomic and User friendly
• Aesthetically Sound
• Economic
• Patented Design
Abhijat make innovative HYB-32 is designed to provide customer value for money by virtue of smart kinematic combination of full version CNC lathe and proven Traub principles. The machine provides convenient operating facility, rigidity, high accuracy and short machining times due to overlapped operations.
The product provides both Repeatability and Accuracy The machine has a strong, rigid buildup and facilitates simultaneous machining by using Servo motor driven CNC slides and cam driven mechanical vertical slides. The high power motor enables high accuracy machining with good surface finish for turned parts of up to 32 mm diameter. LM guides and ball screws are used in both slides ensuring smooth and consistent axial movements.
The machine is designed to be compact thus saving on space. The auto controlled vertical slides provide wide range of cycles to be set for the machine. Aesthetically and Ergonomically designed guarding is provided to ease operation visualization and the user-friendly HMI are provided with the machine.
---
Components proved on machine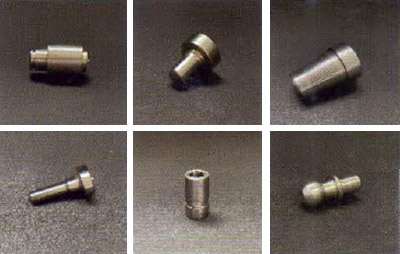 Compact Auto-CNC Machine HYB-32
Basic Machine Consists of :
LM Slides for X & Z axis
Cam driven Collet Chucking
VFD controlled Cam driven Vertical Slides
Manual Spindle Speed Selection
Tool Holders
Coolant Attachment
Coolant tank
Chip tray
Manual Lubrication System
Acrylic Machine Enclosure
Delta controller and Ergonomic
Control Panel
Machine manual
Tool kit
CNC System Details:
System Controller
Absolute Delta Control System
No of CNC controlled axis - 2
Manual data input
Programmed High/Low Spindle
Speed Control
Multiple repetitive cycles
Tool and Clearance Compensation
Graphic Colour Display
USB Port
Optional Machine Features:
Manual Pulse Generator Bar Feeder Attachment Machine lamp
Threading Attachment Kit with
Encoder System
Part deflector
Foot Switch
3 Phase Voltage Stabilizer